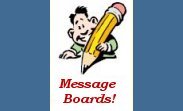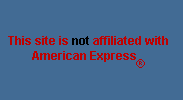 On May 9th, I received a nasty gram from American Express asking to remove my logo.

Date: Fri, 9 May 2003 14:07:44 -0500
From: "Herbig, Nancy"
To: "'Technical Director, amexsux.com'"
Subject: amexsux.com
May 9, 2003

Via e-mail - Confirmation by First Class Mail


Amexsux.com
P.O. Box 321
Chandler, AZ 85244-0321

Re: Content of amexsux.com (Our Reference 222425)

Dear Sir or Madame:

We represent the American Express Company in intellectual property matters. In that capacity, we have reviewed your web site at amexsux.com. At the outset, please be advised that American Express is not objecting to your right to have a web site discussing American Express' services. American Express respects First Amendment right of free speech and does not object to your use of this domain name in connection with a web site to allow consumers to voice comments with regard to it. However, our client must object to one specific use of its registered trademark on your web site. Specifically, we note that you are using a reproduction of the AMERICAN EXPRESS Card Design on the home page of the web site with the term "SUX" over the card design.

As you may be aware, under the First Amendment, you are allowed to use American Express' trademarks in such a manner to discuss criticism of the company. However, the law does not afford the right to use a registered trademark in a manner beyond what is necessary to voice your concerns and comments. Accordingly, we ask that you remove use of American Express' registered card design from your company's web site.

We trust that this request is acceptable and that you will remove the registered AMERICAN EXPRESS Card Design from your web site upon receipt of this letter. Should you have any questions with regard to this request, please do not hesitate to contact the undersigned.
Very truly yours,

Anne E. Naffziger
LEYDIG, VOIT & MAYER, LTD.
Two Prudential Plaza
Chicago, IL 60601
312-616-5600
Fax: 312-616-5700
e-mail:

[email protected]





---


Here's my response to the nasty gram.

Date: Fri, 9 May 2003 13:52:04 -0700
From: "Amexsux.com"
To:

[email protected]

,

[email protected]


Cc:

[email protected]

,

[email protected]

,

[email protected]

,

[email protected]

,

[email protected]

,

[email protected]

,

[email protected]


Subject: Re: amexsux.com
Dear Ms. Naffziger:

Thanks for visiting my site and thanks for your email. I'm sorry to hear that your client (American Express) objects to my web site using their logo with the word "SUX" imposed on the logo.

As you probably know, the courts have continually ruled in favor of owners of gripe sites with respect to First Amendment rights. Moreover, just as long as the site does not create brand confusion, the use of a logo with SUX imposed on the logo is viewed as fair use by the courts. The leading case, decided under a "likelihood of confusion" standard even before the cybersquatting act was passed, is Bally Total Fitness Holding Corp. v. Faber, 29 F. Supp. 2d 1161 (C.D. Cal. 1998). The defendant operated a web site that prominently displayed the plaintiff's name and logo for the purpose of criticizing Bally for alleged abuse of consumers. The court found no likelihood of confusion because of the plain statement that the page was "unauthorized" and the superimposition of the word "sucks" over Bally's mark. As a result, "The Court finds that the reasonably prudent user would not mistake Faber's site for Bally's official site," id. at 1164, and "no reasonably prudent Internet user would believe that 'Ballysucks.com' is the official Bally site or is sponsored by Bally." Id. at 1165 n.2.

As you can see by web site, there is absolutely zero chance of a user viewing my site to confuse my site with American Express. The following are the steps I've implemented to insure that brand confusion will not occur.

1. The title of the web site has the word unofficial as the second word of the title. Moreover, since unofficial is the second word, search engines will place this word in any displayed listings.
2. On the amexsux.com logo, the word unofficial is prominently displayed.
3. Half way down on the left side is a logo that states this site is not affiliated with American Express. Moreover, the "NOT" is in a different color to add emphasis.
4. The terms and conditions clearly state that this site is not affiliated with American Express. Moreover, this statement is on every page of my web site.

Furthermore, my site does not have any commercial value. I do not make a penny off my site and as you can see I do not accept any type of advertisements.

Sorry this is not the outcome you were anticipating but I trust you can understand my position. If I do not hear from you in ten days, I'll assume that you and your client have decided to drop the issue.

Have a good weekend.

Amexsux.com



By entering this site you agree to the Terms and Conditions.